Farmers Market at the Garden!
Saturday, November 3rd 12pm- 3pm join us for our first Saturday Farmer's Market at the garden. We will have local honey, starter garden plants, macrame and more for sale, as well as live mural painting, arts and crafts and delicious fresh local food pop ups! Bring your friends and family!
Fundraiser at the garden!
Saturday November 10th at 2pm come join us for our first ever fundraiser for the garden. Bring your friends and family and come help us build a yellow brick road. Each brick will be available for sale and customizable. All proceeds will go directly to benefit the garden and to keep the space going and growing for the community!
Self Love Sunday's at the Garden!
Sunday November 11th at 11am come join us for a day of relaxation and self love. We will have a by donation yoga class by Diana @wednesdaytomorrowbird , chair massages by Mollie @souldiggybaby and baked goods and other treats available.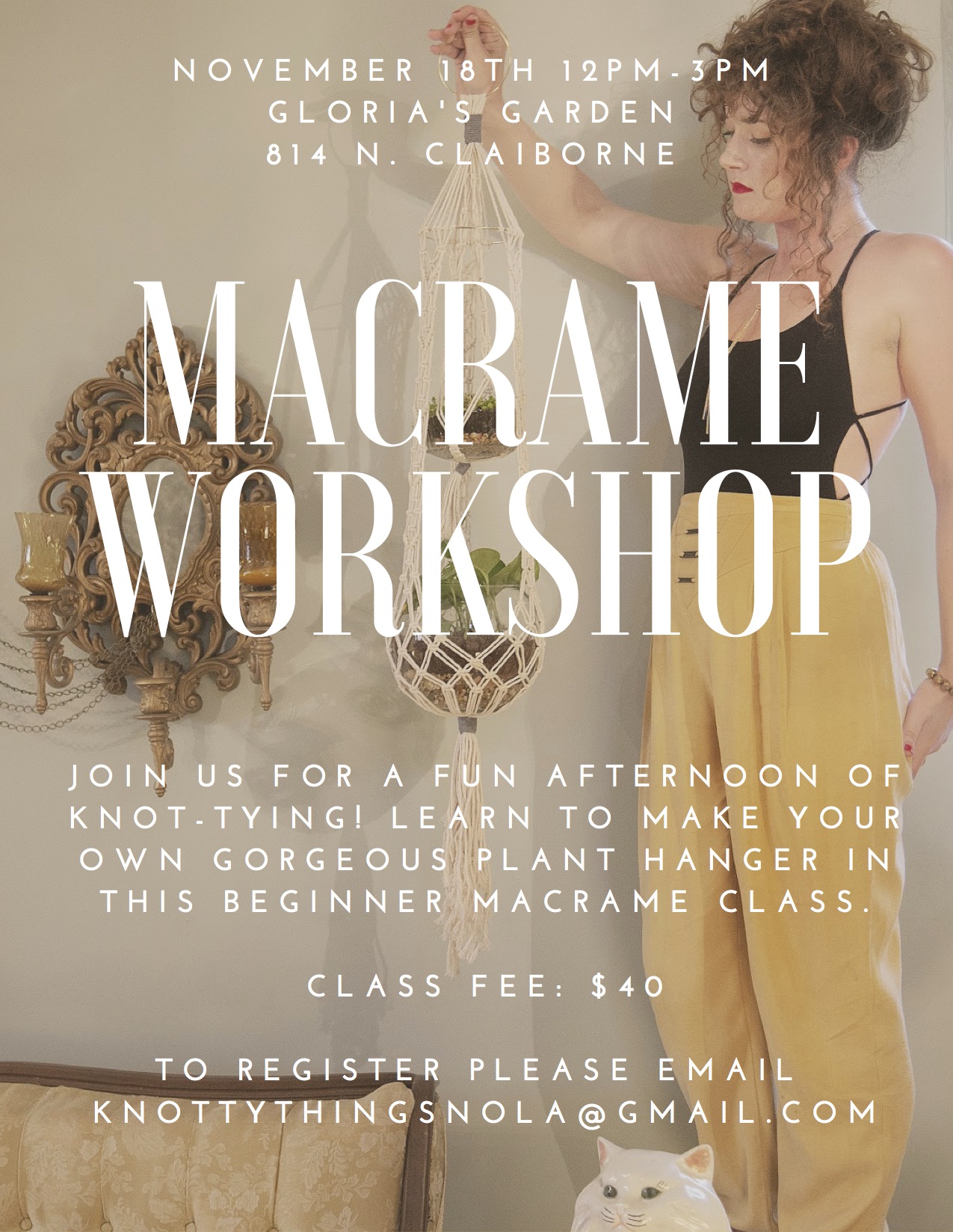 Beginner Macrame Workshop at the Garden!
Join us Nov. 18th, 12:00 pm-3:00 pm for a fun afternoon of knot-tying! Learn to make your own gorgeous plant hanger in this beginner macrame class!.
Class fee: $40
In this three-hour workshop you will:
Learn how to begin a macrame piece, including an overview of necessary materials.
How to work a few different macrame knots,
How to create design, texture, and pattern within your piece by varying the knots as you work.
Leave with a finished plant hanger, and the know-how to design and create more pieces on your own.
We provide all the materials you need to complete your unique piece of art.This is a creative and fun class that will give you the basic skills to create a Macramé plant hanger.
Movie Night at the Garden: SELENA
Saturday November 24th at 7pm bring your own chair and join us while we watch Selena on the big screen. Popcorn and beverages will be available by donation as well as a taco pop up by Tacos De Ojo!
Developing Young Entrepreneurs First Saturday Farmer's Market
At Gloria's Garden we teach youth how to grow their own food, produce their own artwork, market themselves and become entrepreneurs via hands-on education and experience.
On the first Saturday of every month we get together local food and arts and crafts vendors for a Farmer's Market. The market includes free art classes for kids as well as live entertainment!
Ms. Gloria's Gardening Tour in Treme
Glo's "Going Green with Collard Greens" tour is open to the public and groups of all ages. You will enjoy a tour of the garden, Gloria's home cooked collards and cornbread, a rich history of the historic Tremé and don't forget separate play and gardening space for the kids! Make your reservations for by emailing dyeward@gmail.com or call 773-822-3495.
Tremé Farmers market
Since Hurricane Katrina, the Treme has been without fresh and affordable produce. The Claiborne Corridor, once known for its bustling markets, community spaces and plant life, was hit hard by crisis and tragedy capitalism. Though millions of dollars has been raised for the development of the area, little to none of that investment has been seen by local businesses and residents.

So we decided to put on a market that would directly address the needs of local residents, as well as support local businesses that have otherwise been excluded from the growing economy of New Orleans because of gentrification and other exploitative practices.

In preparation for the farmers market and festival, we had 100 or more volunteers from groups like Burners without Borders, Camp Restore, Channel 4 news and more, come by and help plant, paint murals and construct chairs and tables for the garden.

We are looking forward to our monthly farmers markets and festivals, and to support the community that helped us grow. We intend to have a festival every first Saturday of the month, involving live entertainment, arts and crafts for children and community sessions and workshops. The next one will be Saturday, December 2nd. Thank you in advance for taking the time to read this, and for supporting our budding garden. You can find out more about our efforts in Louisiana by looking up Louisiana Burners without Borders on facebook.
Check out our GoFundMe http://www.gofundme.com/gloriastremegarden , and if you are interested in participating in the farmers market, please contact Kaya at bwblouisiana@gmail.com
DYE - DEVELOPING YOUNG ENTREPRENEURS
Our non-profit organization, Developing Young Entrepreneurs teaches youth valuable skills in artistic and business ventures. We held an event for our kids to sell their art and get a taste of being their own boss. This art show was the first one but we hope to continue the tradition semi-annually!
Read more about DYE here...